back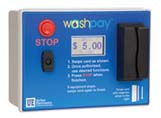 The WashPay Card Terminal allows a site to accept major credit cards
(Visa
®
, MasterCard
®
, Discover
®
& American Express
®
) in the self-serve
bays via your choice of dial-up or Internet-based processing. Credit
card acceptance increases the customer base and maximizes the
site's profits. Multiple purchases by a customer are combined into
one transaction, minimizing credit card transaction fees to the site
owner. Credit transactions from self-serve and automatic bays may be
consolidated into a single merchant account.
VIP
Wash
Pass
TM
Acceptance
Prepaid cards allow the owner to offer gift card, fundraiser and loyalty
programs and collect the money upfront. WashPay's expansive
memory provides the capability to store over 100,000 house accounts
which can be managed from a PC located onsite or remotely. The
detailed transaction report supports fleet account billing.
The WashPay Site Management System allows the site owner to
maximize uptime by monitoring the self-serve bays through a Webbased
application that can be accessed onsite or remotely. Equipment
usage, as well as cash and credit sales of each bay can be monitored
in real time. System settings such as credit mode and limits, pricing,
grace time and customer display messages can be edited remotely.
Detailed sales and revenue reports can be distributed daily via email.
The WashPay System alerts site owners of warnings or fault events via
pager or email notifications.
"WashPay" is listed in these Categories...