AMERICAN CHANGER REAR LOAD BILL CHANGER/ DUAL CABINET/ DUAL HOPPER/ DUAL VALIDATOR
back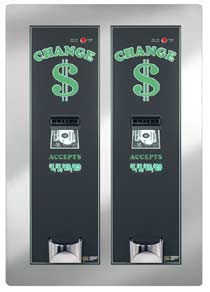 This rear load model features two AC1005's mounted next to each other on a heavy duty Stainless Steel Face Plate that is designed to be a pull-away to minimize repair costs. An Industry First! Recommended for the Car Wash and Laundry industries, it provides the security and reliability of two separate machines mounted to appear as one. It is available with either a "Change" or "Tokens" front.
Product Features:

2 x CoinCo MC2600's accept: $1, $2, $5, $10, $20
Stacker capacities: 1,000 bills
Can dispense one or two of the following:
Quarters, tokens or $1 coins
Hopper capacity:
Quarters/tokens (2,800/hopper or 5,600 total)
$1 coins (2,200/hopper or 4,400 total)
Token range:
Diameter: 3/4" to 1 1/8"
Thickness: .049" to .098"
Options:

Custom cut face plate
Audit printer
Condor $1 coin/quarter acceptor
2,000 board
(quarter acceptance, token value over $1 and/or bonus payout)
AC2221 requires two boards
IDX electronic coin acceptor
IDX tokens (500 ct.)
IDX custom logo dye
CoinCo 650 bill stacker
Heater
MARS validator ($1, $5, $10, $20) 2 x 500 bill stackers
AC2221 requires two validators
MARS 700 note stacker
MARS 1,000 note stacker
T-Handle medeco
Lock & Key medeco
Warranty:

1 year on parts
2 years on validator
Dimensions:

17 1/4" W
26" H
13" D
Weight: 100 lbs.
Stainless steel face plate:
21" W x 30" H
Weight: 22 lbs.
"AMERICAN CHANGER REAR LOAD BILL CHANGER/ DUAL CABINET/ DUAL HOPPER/ DUAL VALIDATOR" is listed in these Categories...