AMERICAN CHANGER REAR LOAD-DUAL NOTE BILL & COIN DISPENSER
back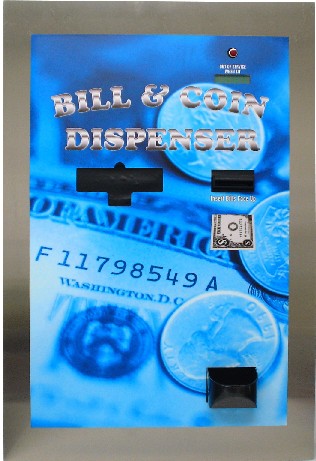 This rear load Multi-Bill & Coin changer is designed to break larger bills into smaller bills of "two" denominations and coins (or tokens). It features a high security design, MC2600 validator, 2-750 note cartridge dispenser and a Hopper. It's designed with a Stainless Steel Face Plate. This machine provides change to your customers while helping to reduce lost revenue and lower labor costs. This model is ideal for the Vending, Car Wash, Laundry and Amusement Industries.
Product Features:

High security design
MC2600 validator Accepts: $1, $5, $10, $20
Stacker Capacity: 500 Bills
Dual dispenser capacity: 2-750 note bills
Hopper capacity: 2800 quarters/tokens or 2200 $1 coins.
LCD Dsiplay
Inset provided for multiple payouts
Options:

Bill Accepts: $50, $100
Mars 700 note stacker
Mars 1000 note stacker
Mars AE2602 Validator
Tubor T-handles
Medeco lock & Key
Contact alarm
Tilt Alarm
Warranty:

1 year on parts & labor
2 years on validator
Dimensions:

19.25" W
29" H
18.1" D
Weight: 140 lbs.
Stainless Steel Face Plate:
23.25" W x 34" H
Weight: 25 lbs.
"AMERICAN CHANGER REAR LOAD-DUAL NOTE BILL & COIN DISPENSER" is listed in these Categories...