Decorative Bollard Covers
back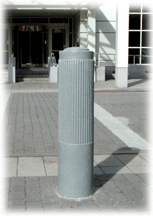 The Decorative Sleeves offer the same great features as our original bumper post sleeve, with a unique look! This LDPE thermoplastic sleeve slides over existing steel bollards for a quick and easy installation.
Cinco Bollard........Ribbed Bollard........Pawn Bollard
Planter Bollard.......Deco Bollard.......Metro Bollard
LDPE plastic bollards now offer bollard covers with UV state of the art lighting. Unlike solar lighting UV LED lights recharge rain or shine. With up to seven years of continuous light you can enjoy a rich, decorative entrance for years to come. Point of purchase or company signage can be incorporated at a minimal cost. Decorative bollards come in a variety of standard colors and custom colors are available.


Create your own unique look, with custom colors, pillars, emblems, rings, and grooves.
YOU DESIGN IT WE'LL MAKE IT!
---
NEW LIGHTED BOLLARDS!
Lighted Metro Bollard offer a classic architectural look with an inexpensive way to brighten up walkways and entrances.
available in a variety of colors, are maintenance free, never need painting, inexpensive, and energy efficient. The bollards cover slides over exiting 6" diameter posts and stands 57" high and can be cut to custom heights. The unique UV light package eliminates wiring or batteries, which results in decreased installation and energy costs.
Add this UV powered light to any of our decorative bollards! The item uses Ultra Violet Rays to charge all day, then at dusk begins to blink or shine until dawn! No batteries needed!
Lights can be set to flash slow or fast, depending on your wishes. Some models shine steady while it's dark as well. An extremely flexible item! An excellent way to add safety to your walkways or show the perimeter of your facility grounds!
Lights exceed over 50,000 hours of operation! Available in a variety of colors! Call today for more details!
"Decorative Bollard Covers" is listed in these Categories...