Select-A-Vac with Spot Remover
back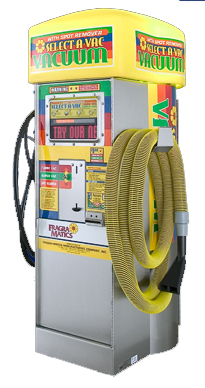 Create greater impulse income with the model SAV-S. The unit combines super vac, turbo vac and spot removing shampoo to give customers the choice to switch between services. When services are switched, the computer control automatically recalculates remaining service.
Your customer can easily switch between Super Vac, Turbo Vac, and Spot Remover. A computer-controlled timer adjusts remaining time to service being used.
Internally lighted dome advertises around the clock
Lighted instructions encourages more night sales
Easy-to-understand instructions for Super Vac, Turbo Vac, and Spot Remover
Internally locked strong coin vault
Built-in coin counter activated by hand-held unit
Our NEW Perma-Scroll™ LED display continuously shows a welcome to your business, prices, instructions and easy-to-understand SAV-F operating instructions.
Timer and LED display unit provide visual and beeper warning messages when time is expired and asks your customer if more time is needed.

"Select-A-Vac with Spot Remover" is listed in these Categories...