back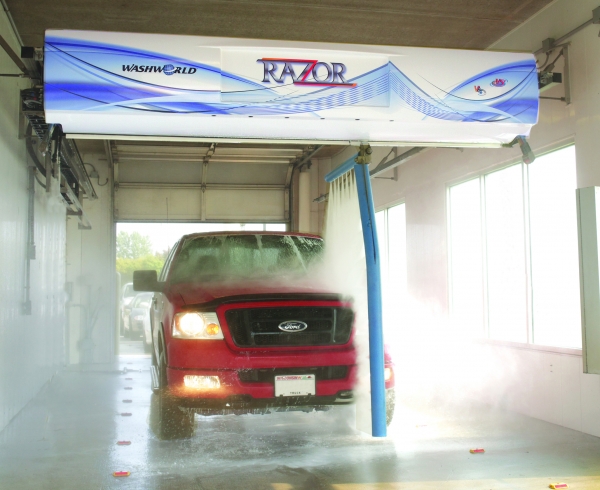 Radical ... Revolutionary ... Razor!
A result of Washworld's commitment to making you more profitable, Razor is a vehicle wash system that delivers! Focusing on simplicity of use and care, reduced maintenance, improved system longevity and durability of materials, Razor combines all of the great features you've come to expect from Washworld in a truly unique package. If you want a bigger return on investment then it's time to join the Razor Revolution.
No More Festoon Cables With Energy Chain
Razor's revolutionary cable carrier E-Chain®...
Protects moving cables and hoses from abrasion and entanglement
Provides controlled bend radius of cables and hoses - no pinching or kinking
Clean and organized appearance

E-Chain's non-metallic construction means...
Quiet performance
Longer cable life
Extended supply line life
Lower maintenance costs
More open and inviting bay for enhanced customer experience
New Drive Motion Technologies
Razor's belt drive utilizes multiple variable frequency drive technology...
Reduced maintenance - less frequent greasings necessary
Elimination of tires and inner tubes
Smooth wash motion transitions
Simple design reduces downtime
Eliminates overhead cross brace and swivel
Reduced weight
The Razor Advantage
Razor brings a quicker return on investment...
Energy efficient motors save operating costs
Sealed gearboxes eliminate oil changes
High quality, premium fiberglass enclosures withstand harsh wash bay conditions for longer life
Reduced rolling resistance/improved efficiency
Radial motion provides a smooth and precise application of all solutions and water
No wasted product + reduced water consumption + lower operating costs = HIGHER AND FASTER RETURN ON INVESTMENT!
VS2 - Vehicle Sizing System
Razor's standard VS2 system is Washworld's safe, simple and reliable positioning system for the Razor wash. This results in a significant reduction in wiring, fewer components to maintain and a wash bay that looks less cluttered and more inviting. Razor's VS2 provides exceptional cleaning by consistently measuring front, rear and both sides of vehicles while offering your customers a friendly, open wash bay without guide rails, floor treadles or T-bars. To increase customer comfort, as well as through put, Razor utilizes bay guide reflector system to outline vehicle travel, day or night.
"Razor Car Wash System" is listed in these Categories...