back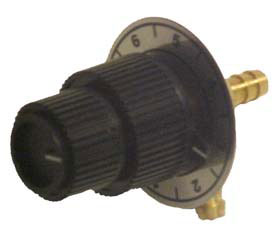 VALVE BODIES ARE EITHER BRASS OR STAINLESS
ALL ADJUSTING SHAFTS ARE STAINLESS STEEL WITH DOUBLE VITON O-RING SEALS
ALL ADJUSTING KNOBS HAVE OVERSIZE BRASS INSERTS WITH DOUBLE SET SCREWS TO PREVENT LOOSENING
PANEL MOUNT OR IN-LINE STYLES, HOSE BARB OR THREADED PORTS
ALL MODELS HAVE FLOW AREAS EQUAL TO A .140 DIAMETER ORIFICE
VALVES ARE FULLY OPEN WITH ONLY ONE TURN AND FEATURE TWO CONTROL KNOBS. ONE KNOB ALLOWS THE FLOW TO BE LOCKED AT A SPECIFIC RATE WHILE THE SECOND KNOB ALLOWS THE FLOW TO BE TURNED OFF AND ON. NUMERIC INDICATORS ARE 303 STAINLESS WITH STAINLESS STOP PINS.
"METERING VALVE" is listed in these Categories...