AMERICAN CHANGER REAR LOAD BILL CHANGER/DUAL HOPPERS
back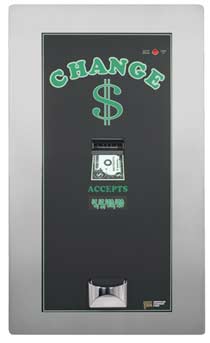 This rear load model is a dual hopper version of our AC1005 and is recommended for Laundry and Car Wash applications where higher coin capacity is desired. This machine doubles the Quarter/Token capacity to 5,600 total coins while adding only 5 inches to the width of the machine. It is offered with your choice of a "Change" or "Tokens" front on a heavy duty, Stainless Steel Face Plate that is designed to be a pull-away, minimizing repair costs if vandalized. An Industry First!
Product Features:

CoinCo MC2600 accepts: $1, $2, $5, $10, $20
Stacker capacity: 1,100 bills
Can dispense one or two of the following:
Quarters, tokens or $1 coins
Hopper capacity:
Quarters/tokens (2,800/hopper or 5,600 total)
$1 coins (2,200/hopper or 4,400 total)
Token range:
Diameter: 3/4" to 1 1/8"
Thickness: .049" to .098"
Options:

Custom cut face plate
Audit printer
$1 coin/quarter acceptor
IDX electronic coin acceptor
IDX tokens (500 ct.)
IDX custom logo dye
Contact alarm
Tilt alarm
Heater
MARS validator ($1, $5, $10, $20) 500 bill stacker
MARS 700 note stacker
MARS 1,000 note stacker
T-Handle medeco
Lock & Key medeco
Token front
Warranty:

1 year on parts
2 years on validator
Dimensions:

13 1/2" W
26" H
13" D
Weight: 84 lbs.
Stainless steel face plate:
17 1/2" W x 30" H
Weight: 17 lbs.
"AMERICAN CHANGER REAR LOAD BILL CHANGER/DUAL HOPPERS" is listed in these Categories...