back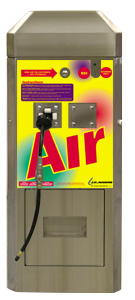 MODEL 15002 FEATURES
Cabinet design is used – and preferred – by many national petroleum chains.
Interior base frame has extra reinforcement which provides extreme anchoring stability.
Cabinet service door is secured with 2 American series 2000 locks.
For added security, the stainless steel cabinet dome cannot be removed without first opening the service door and releasing the dome retaining rods.
Easy-coil, adjustable speed retractable hose reel with 25' X 1/4" wire braided hose.
Air hose comes with an Amflo 90 PSI inline tire inflator gauge, whip and air chuck.
Thomas 3/4 HP air compressor provides years ofdependable service.
Green cabinet light – when lit indicates power is on to the unit and ready for use.
ADA height compliant.
Metal coin drop mechanism takes U.S. Quarters.
110 Volt accumulating timer.
JB7 coin box features a locking lid with an automatic trap door. A separate key is required to have access to the money in the coin box.
Non-resettable coin counter.
Optional: "Free Service" wireless push button remote control allows customers to receive free use of either service for the normal cycle time. The optional "Free Service" can be activated by the attendant or the cashier with the push of a button for customer convenience.
Additional cycle counter comes standard if your unit is equipped with the optional "Free Service" wireless remote control feature.