Economy Rear-Load Changer
back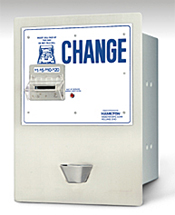 Specifically designed for lower volume locations, the ER-60 features the same rugged dependability as the entire Hamilton changer line. It is the ideal changer for the smaller self-serve wash and makes the installation of two changers in different locations at the same wash more affordable.
All internal components are the same as used in most other Hamilton rear-load changers with the exception of the hopper. Constructed the same as our $1200.00 quarter capacity hopper, it is the shortest of the Hamilton made hoppers, with a maximum capacity of $600.00 in quarters. This unit may also be set up to dispense other types of coins and tokens.
The cabinet of this unit is made of strong 7 gauge carbon steel with a stainless steel faceplate.
Cabinet Dimensions:
20-3/4"H, 15"W, 13"D
Faceplate Dimensions:
24-3/4"H, 18"W
Weight:
135 lbs.
"Economy Rear-Load Changer" is listed in these Categories...