back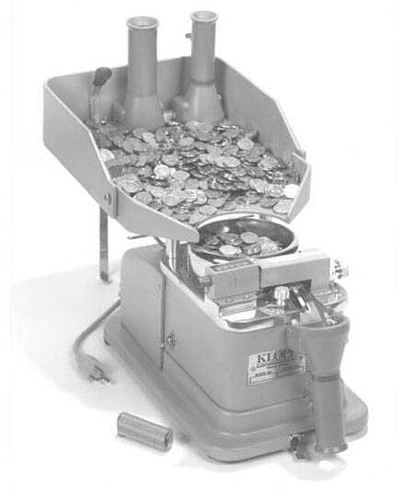 The Model CE counts, wraps and bags dollars, quarters, nickels, dimes, pennies and tokens one denomination at a time. It's portable.
It does not sort
.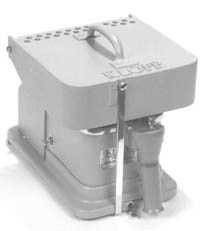 Pour a large quantity of the same denomination of coins into the tray. Set the controls and insert a bank wrapper into the wrapping tube at the front of the CE. Turn the switch "ON", and in four seconds the wrapper is filled with the proper number of coins and the coin flow stops. Repeat the process until all coins are counted and wrapped. The CE will also count and bag coins instead of wrapping them. Just replace the wrapping tube with an optional bagging tube. The resettable meter will tell you the number of coins that have been counted into the bag. (Includes 3 wrapping tubes).
Construction - Cast aluminum and hardened steel.
Finish - Polished aluminum and textured gray enamel.
Coin Tray - Folds to protect the controls from dirt or damage when not in use. The balanced handle attached to the tray makes it easy to carry or store the counter.
Coin Stops - 20, 25, 40, 50 coins/tokens for wrapping, plus 'C' for continuous flow into a bag.
Meter - Five (5) digit manual reset.
Wrapping Tubes - Color Coded 25¢, 10¢, 5¢
($ tube and other coin/token sizes optional).
Bagging Tubes - Optional.
A bagging tube (not a wrapping tube) must always be used when counting into a bag.
Counts - 1,800 coins per minute or can fill a bank wrapper in 4 seconds. Hinged coin tray holds approximately 3000 coins.
Denominations - Counts, wraps, or bags all U.S. $, 25¢, 10¢, 5¢, 1¢ plus .800, .882, .900, .984 and 1" tokens. Also tokens and non-U.S. coins up thru 28.5mm (1.125") in diameter and 2mm (.080") in thickness on request.
Dimensions - W-10", H-12" D-16" (Closed), D-21" (Open).
Weight - 22 lbs.
(Shipping Weight - 27 lbs.)
Motor - 1/30 hp, 115 volt,
60 cycle (220 volt optional)
Important Information for Self-Service Carwash Operators.
The KLOPP Model CM Counter is the only counter in the industry that can count WET coins or tokens
. Most, if not all, the coins / tokens you collect are wet. Normally, coin counters drive coins over a flat surface with a single upper wheel or belt. When coins are wet, this method creates skidding just like your automobile tires on a rain soaked road. Not so with the KLOPP Model CM. It utilizes both an upper and lower drive wheel mechanism. This exclusive feature allows wet coins or tokens to be transported through the counting process with the same speed and efficiency as though they were "bone dry."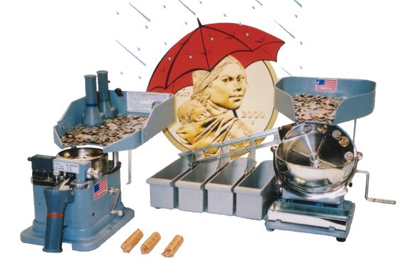 Models shown are the Manual Counter Model CM and the
Manual Sorter Model SM-W with optional rigid tray assembly.
The KLOPP Model SM-W Sorter sorts WET coins and tokens. As a companion to the Model CM Wet Coin Counter, KLOPP also can provide the Model SM-W wet coin/token sorter. The Model SM-W Sorter will separate up to 4 wet coin/token denominations at one time, at a rate of 900 coins per minute.
"CE - Klopp Counter" is listed in these Categories...