back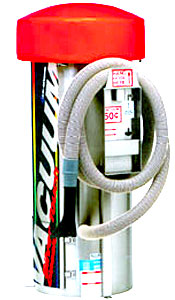 Excellence in American Made Stainless Steel!
The 100% American-made vacuum is solid in quality and craftsmanship.

The exterior is of top-grade 18-gauge stainless steel construction. This ensures a durable, rust-resistant and maintenance-free finish. You will find Adams excellence in the mechanical coin drop coin acceptor as well as the industry's soundest security vault system.

Unique filter system assures increased vacuum motor life and easy care. One-piece dome and "H" bracket gives quick access to the twin 1.6 HP motors. You save time with a special O-ring design in the spring-loaded filter bags.

Domes are available in Red, Yellow, Blue, Light Green, Dark Green and White.
Heavy Duty Features for Rugged Use:
Beefed-up security overall
Double-latch clean-out door
Maintenance-free upkeep
Also available vault-ready installation with relocated vacuum tube
"Easy On" internal vacuum hose threading system




"Stainless Steel Vacuums" is listed in these Categories...